Company Profile Products Service
About Us
PT. ALTECH ASIA PACIFIC INDONESIA was established in Indonesia in 2010.
It is a trading company that provides a variety of machinery and equipment for various applications in the printing, food and beverage, automotive, and cosmetics industries.
We deliver advanced technologies from various countries to meet the needs of our customers. We also provide continuous support in consumables, spare parts, maintenance and service.
Company Profile
Overview
| | |
| --- | --- |
| Company Name | PT. ALTECH ASIA PACIFIC INDONESIA (INDONESIA) |
| Address | GD. Marga Guna Grand, 2nd Floor JI. Marge Guna Raya No.9, Cilandak, Gandaria Selatan Jakarta Selatan, Indonesia 12420 |
| TEL/FAX | TEL: +62-21-7590-1140/1363 / FAX: +62-21-7581-7251 |
| Establishment | May 2010 |
| Capital | USD 700 thousand (99.5% owned by ALTECH CO., LTD. 0.5% owned by ALTECH ASIA PACIFIC CO., LTD.) |
| President | Masanori Tsukahara |
| Work | Sales development mainly targeting Japanese companies expanding into Southeast Asia with a focus on Indonesia. |
| Business | Sales of industrial machinery and subordinate service. |
Access
Our Products
DAC Engineering

Gravure Print Inspection System Trinity series
Gravure Print Inspection System Crossover series

Meisei Corporation

Viscosity Controller VG Series

Musashino Kikai

EXTRUSION LAMINATOR
TANDEM EXTRUSION LAMINATOR
SINGLE LAMINATOR
DRY LAMINATOR
OZONE GENERATOR
Sawa Corporation
nspection System Crossover series
New Iwasho
Fully-Automatic High-SpeedPress Center Sealing Bag Making Machine
Minoga

VACUUM EMULSIFYING MIXING EQUIPMENT
FUJIFILM
Prescale
Thermoscale
UVScale
Labtech Engineering

5-Layer Co-Extrusion Cast Film Line
Twin Screw Extruder
L-ERS/2 special Roll Stack
Multilayer Film Blowing Line
Our Service
TRAINING
ON SITE SERVICES
DEMO & TRIAL PRODUCTS
DAC Engineering
Human detects 5 senses from outside (visual, touch, taste, smell, and hearing) and takes an action by judgment of brain. And it is said that 80% of the action is controlled by visual sense. "Watch" and "Analyze" = Image Processing Technology
Image processing technology is a technology to digitalize visual information using hardware and software processing. DAC's image processing technology has been mainly introduced as a replacement of human eye-check in factories' production lines and inspecting high-speed and fine defect inspection. DAC's products contribute to society through image processing.
Gravure Print Inspection System Crossover Series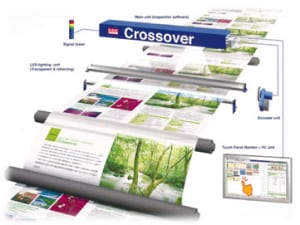 Application
Gravure Print Inspection System for flexible packaging industry.
Features
Industry's first! Controller-less unit!
3-touch operation – Amazing user-friendliness!
Industry's fastest automatic setting! Newly developed special detection circuit and powerful image stabilizer Competitive pricing Plate check is possible. (XCC series) XCC series is easy to install on existing machines by adopting "Coco sensor", the contact type
Gravure Print Inspection System Trinity Series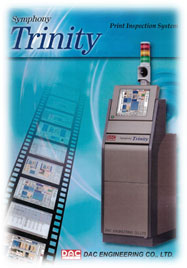 Application
Gravure Print Inspection System for flexible packaging
Features
Pale color streak peculiar to gravure printing can be detected by a special detection circuit dedicated for gravure printing.
Multiple inspection sensitivity can be applied by inspection frame setting inside of an inspection area.
Able to inspect in different inspection sensitivities such as an important area by strong sensitivity and other area by weak sensitivity.
Both side can be inspected by 1 controller.
High contrast 3CCD camera makes it possible to correspond to customers' strict inspection needs.
Plate check is possible. (TCC series)
TCC series is easy to install on existing machines by adopting "Coco sensor", the contact type on inspection roll.
Business form print inspection system (Trinity Coco)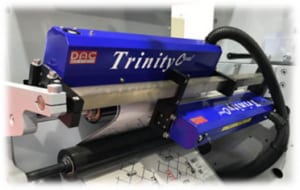 Application
Business form print inspection system detects dirt, ink spatter, incomplete text and broken text on both sides of printed products of high-speed online printing.
Features
Special detection circuits for text and color defect, dedicated to business form industry.
Compact Coco sensor and high-speed processing technology enable high-performance and resolution inspection.
Position correction function (XY correction) for sheet meandering and deviation due to machine delivery.
Both sided inspection is possible by 1 inspection system Linking to defect data management system makes it possible to conduct a traceability on stored defect data anytime.
Meisei Corporation
Meisei was the first machine manufacturer to have developed the MS viscosity controller. Since Meisei has accumulated a large amount of data based on its extensive experience after having obtained the patent, Meisei can suggest the appropriate MS viscosity controller to customers and respond promptly to any requirements.
Meisei has been able to achieve this because its sales, technical, and support departments have been working earnestly on product development for over 30 years.
Viscosity Controller VG Series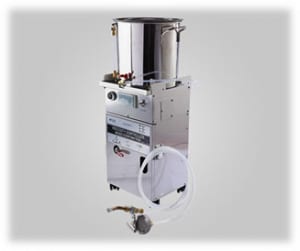 Functions and Features
Single unit performs four functions: ink circulation, ink agitating, viscosity measurement and viscosity control.
Improves product quality and color consistency. Decreases losses and customer claims. – Guaranteed!
By providing uniform viscosity, waste is minimized and ink consumption is reduced by 15 ~ 20%.
Non leak and safety by pneumatic diaphragm.
Easy to wash by only half a gal of solvent, takes 3 minutes.
Automatic oil lubrication and recycling system extends pump life by 3 times longer.
Kink-free, solvent resistant hoses are soft and easy to handle.
Compact and lightweight, the system is easy to move, setup and operate.
Make operators free to adjust viscosity level, operator can now devote their attention to other matters.
Musashino Kikai
Musashino Kikai Co. ltd. of which head quarter is at Tokyo, Japan, started business with cellophane and CMC manufacturing machine in 1961.
Musashino Kikai with more than 50 years market experience made itself a name in Japan market by tailoring extrusion lines to customer requirements and expanded applications like plastic processing, paper processing, high function film manufacturing.
Also, we provided our machines to Asia and USA with the machine design, technology and process know-how, which was accumulated in Japan market.
EXTRUSION LAMINATOR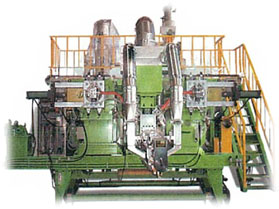 Application
Package for potato chips, instant noodle. Food package for retort.
Equips with multiple number of extrusion units: enables to extrude combination of different kinds of resin and enables multi-layer.
TANDEM EXTRUSION LAMINATOR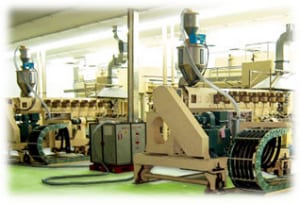 Application
Package for milk and medicine the evolving model. Two single laminators are combined and max. 5 layers film production possible.
SINGLE LAMINATOR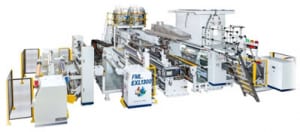 Application
Package for food and daily goods etc.
Equips one extrusion unit. Widely sold and good evaluation from all over the world. The material width and line speed are decided by material. We have variety model lineups from simple low cost model to the high end model with full options.
Also costomized model is available.
DRY LAMINATOR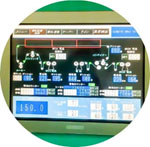 Laminator enables to stick a film on other film without thermoplastic resin: after drying film on which a bonding agent is coated the other film without any agent is stuck on the coated film with sheets pressed.
OZONE GENERATOR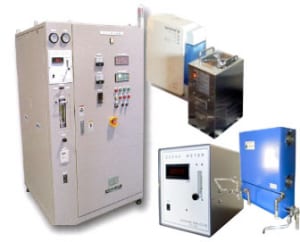 Application
Ozone has several effects such as strong oxidization, deodorant, bleaching and decomposition of organic matters. This is used for many applications: water sterilization, deodorant of hotels and restaurants, manufacturing process of semiconductor, improvement of polyethylene adhesive ability as a plastic surface treatment.
Sawa Corporation
With reference to company's motto, "Contribute for a better environment" we aim to manufacture cleaning machines that can improve the factories environment. To achieve that, we attach great importance to internal communication and exchanges but also with our business partners to build products that fully answer to customer needs rather than self-satisfying products.
SC-G100E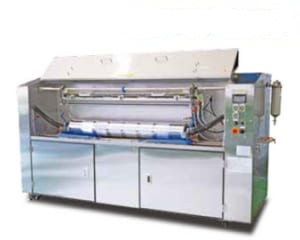 Application
Gravure cylinder cleaning machine for flexible packaging
Features
One-component ink can be cleaned within 2 minutes. Two-component ink can be cleaned with 6 minutes if the leaving time is within 1 hour.
Cleaning flange face at the same time.
700 to 1350mm cylinder can be cleaned by this machine.
Enable to skip manual work in a printing machine.
Energy-saving type. Power consumption is only 850VA. Solvent usage is only 18-30 liters.
It is possible to clean anilox roll.
New IWASHO
With the slogan, "Creates the Future of Packaging", New IWASHO hopes to contribute to the customer's profit with "Innovative Pouches" as well as further development of for the Bag-Making industry.
Fully-Automatic High-SpeedPress Center Sealing Bag Making Machine Model: PPC-300Ⅲ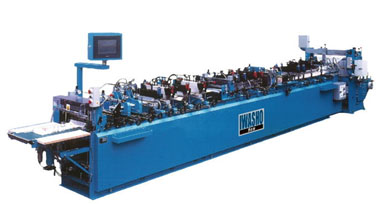 Machine speed
180rpm
Capacity
30~150 Bags / min (L=200mm)
*It is different depending on the film substrate materials
Bag dimension
Width 65mm ~ 600mm
Length 50mm ~ 5000mm
Fully-Automatic High-SpeedPress Center Sealing Bag Making Machine Model: SDN-600TⅢ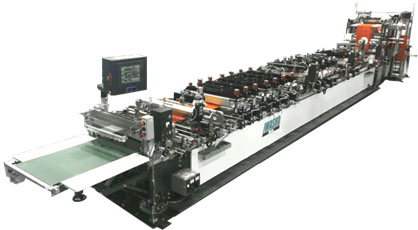 Machine speed
180rpm
Capacity
30~150 Bags / min (L=200mm)
*It is different depending on the film substrate materials
Bag dimension
Width 50mm ~ 400mm
Length 50mm ~ 350mm
Fully-Automatic High-SpeedPress Center Sealing Bag Making Machine Model: PC-CW400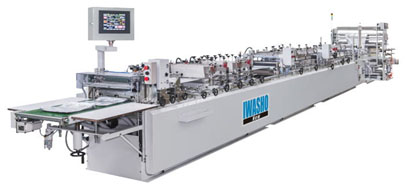 Machine speed
180rpm
Capacity
30~150 Bags / min (L=200mm)
*It is different depending on the film substrate materials
Bag dimension
Width 50mm ~ 400mm
Length 50mm ~ 350mm
Minoga

By the strong force of high speed of homogenizer (emulsifier), the materials will go through the narrow space of the emulsifying head, it forms a powerful circulation in the vessel. In the middle part, the center blades and outer low speed anchor rotates in opposite direction. It performs great shearing, impact, and dispersion in the vessel. It will help to blend, mixer, emulsify, and homogenize the product in the vessel, and increase the stability, smoothness and luster of cream products. The emulsifying (mixing) head is exchangeable for your various products.
The special design of high speed emulsifying head and low speed agitator & blades can achieve high efficiency of mixing & homogenizing, and the teflon scrapers of agitator can scrape off the materials which sticked to the inner wall of vessel, and make the complete mixing at same time without corner. The teflon scraper is fixed at the outer mixing frame which will change their position by always touching the inner wall when rotating. Those scrapers can help the heat-exchange during mixing and also reduce the time of production.
VACUUM EMULSIFYING MIXING EQUIPMENT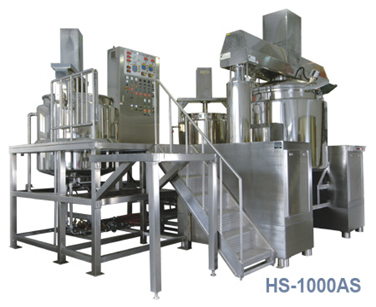 Features
1. Mixing oil and water phases materials in high speed to get perfect emulsion product of good quality.
2. Machine consists of vacuum-resistant vessel with jacket for heating and cooling. Equipped with high speed homogenizer, scraping agitator, vacuum pump, and hydraulic pump for lifting, heating & cooling system.
3. With vacuum pump to take the air bubbles out of mixed product, and extend the time of storage.
4. The mixing shaft and emulsifying head is exchangeable, you can use the proper mixing head according to your products. There are some types for your products.
A. High viscosity type
B. Low viscosity type
C. High shearing type
D. Disperser type
5. Scraping unit is with moveable teflon scrapers to scrape off the materials on the tank wall and the anchor to move the materials to the center area to ge better blending and mixing. The teflon scrapers are maintained manually and easily without any tool.
6. Our machines have safety devices, such us vacuum safety valve, jacket safety valve, over-loaded protection of motors, etc.
7. Our vacuum emulsifying equipment equipped with heating & cooling system which simplifies the processing. Within this same equipment, you can do from heating-melting-emulsifying-air bubble reduction (by vacuum)-cooling without changing vessels, it saves lot of labor and time for your production.
8. All contacted parts of equipments are SUS#316, the product homogenized in vacuum and close vessel can be sanitary and high quality. The specification of machine accord with the CGMP standard (CIP/SIP).
9. The measuring of raw materials, the recording of temperature for heating, melting, emulsifying, cooling, and the change of mixing speed, and the vacuum suction can be controlled automatically (PLC control).
Application:
Cosmetic Industry: Cream, Lotion, Lipstick, Shampoo
Pharmaceutical Industry: Ointment, Syrup, Injection
Food Industry: Mayonnaise, Dressing, Jam, Butter, Margarine
Chemical Industry: Polyester, Synthetic fiber
Paint Industry: Paints, Synthetic resin paint
Others: Color, Wax, Shoe cream, Coating liquid
FUJIFILM
Fujifilm's imaging expertise goes far beyond photography.
It ranges from the testing equipment using digital X-ray technology to find defects, Prescale to enable visual confirmation of physical pressure, microfilm solutions for long-term archiving, to micro filters ensuring precise filtering with our proprietary microporous membranes.
Prescale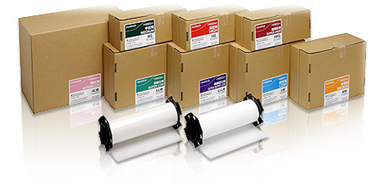 Prescale allows you to easily measure pressure balance, distribution, and size. Created using Fujifilm's advanced thin film coating technologies, the pressure inspection sensor on the entirety of the film allows you to confirm pressure distribution of the entire surface at a glance. The color appears red where pressure is applied, and the color density varies according to the amount of pressure. To cover a wide pressure range (0.006 to 300 MPa), we supply eight types and nine variations of Prescale.
Thermoscale
Measuring heat distribution – from points on a graph to entire surfaces.
Thermoscale is a epoch-making new film that enables anyone to measure heat distribution easily by observing variations in density and hue.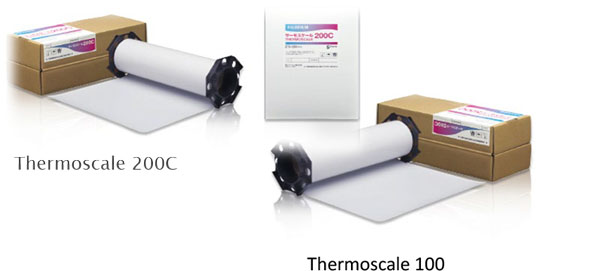 UVSCALE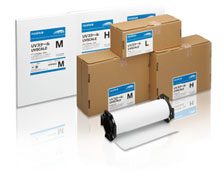 UNSCALE is a film that responds to UV light, and changes color depending on the amount of light it is exposed. This makes it easy to see UV light distribution. There are a roll type and a sheet type, with three types for different amounts of light.
Labtech Engineering

We are pleased to inform you of some of out developments during the year 2019, which brought new concepts and innovations to our existing laboratory extrusion lines. We have made a new LCR-300/300-SR-COEX featuring one large Ø300 mm chill roll for optimum cooling efficiency. Further our existing 12 mm Twin Screw Extruder has been redesigned to be able to run both pellets and powdered materials. And a new low priced Roll Stack type LE-RS2 has a modular concept for producing narrow films and sheets. Our latest LF-800-COEX film blowing line features automated batch blending and in-line dosing for better material handling and flow control.
LCR-300/300-SR-COEN 5-Layer Co-Extrusion Cast Film Line with a large Ø 300 mm Mono Chill Roll
Our latest 5-layers Co-Ex Cast Film line was supplied to Sealed Air/ USA and features a new Chill Roll design with only one large 300 mm diameter roll, which enables optimum cooling of the cast film. The assembly is mounted on separate sturdy trolley with height adjustments for full flexibility.
The chill roll is driven by a servomotor with a planetary gear coupled directly to the roll shaft. This drive system ensures a high torque even at a minute roll speed. The roll has internal spiral channels placed close to the roll surface for high efficiently conductivity of the cooling media to the film.
The take-off station is driven by a separate servomotor and has a set of water-cooled polished nip rolls with adjustable gap for conveying the cast film to downstream stations.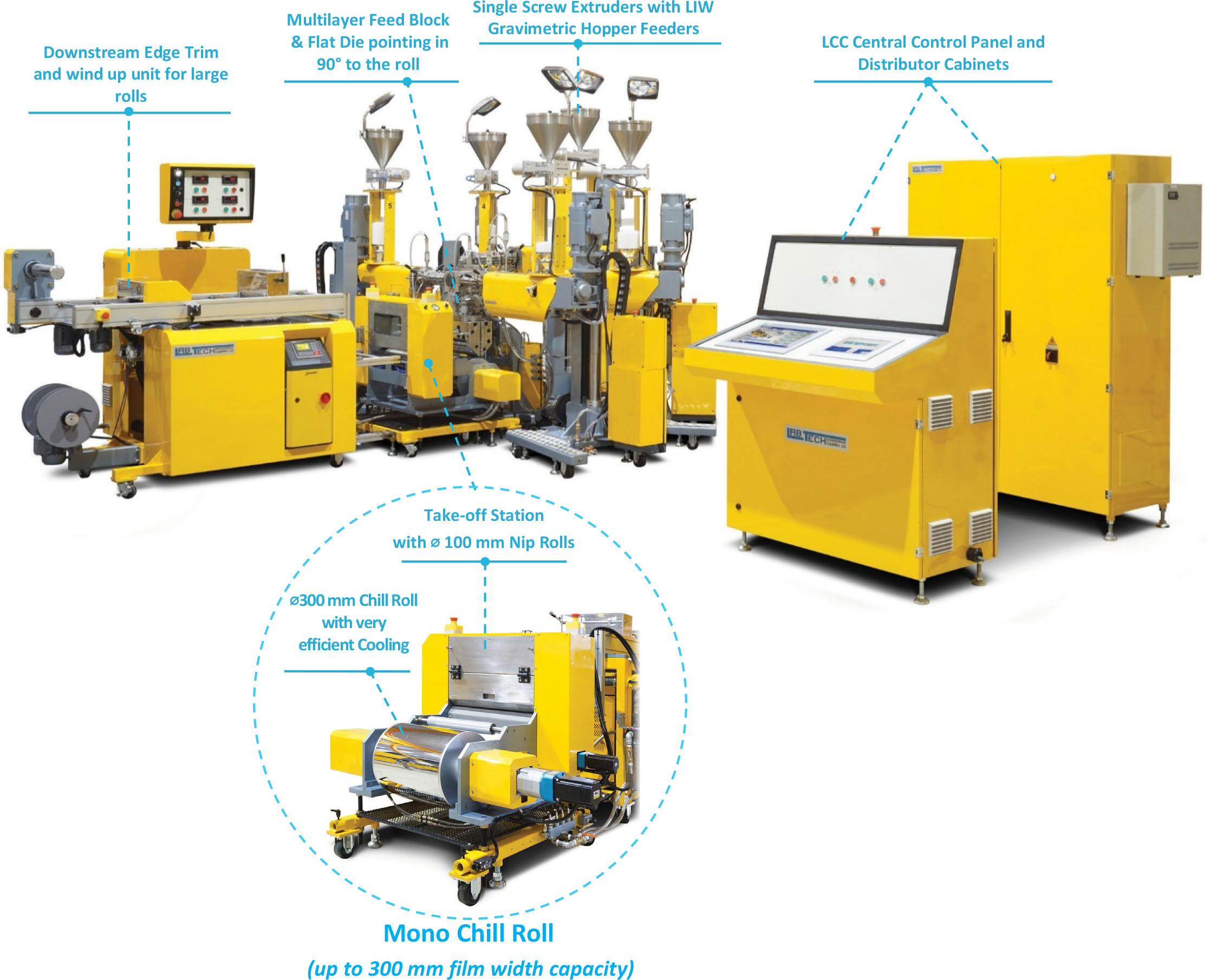 12 mm Twin Screw Extruder
The new 12 mm Twin Screw Extruder was redesigned to enable processing of up to 3×3 mm size pellets, as well as powder compounds, which significantly widen its range of materials and applications. The machine is also supplied with a new volumetric feeder which is configured for low volume output, allowing stable feeding of pellets as well as powders or blends thereof.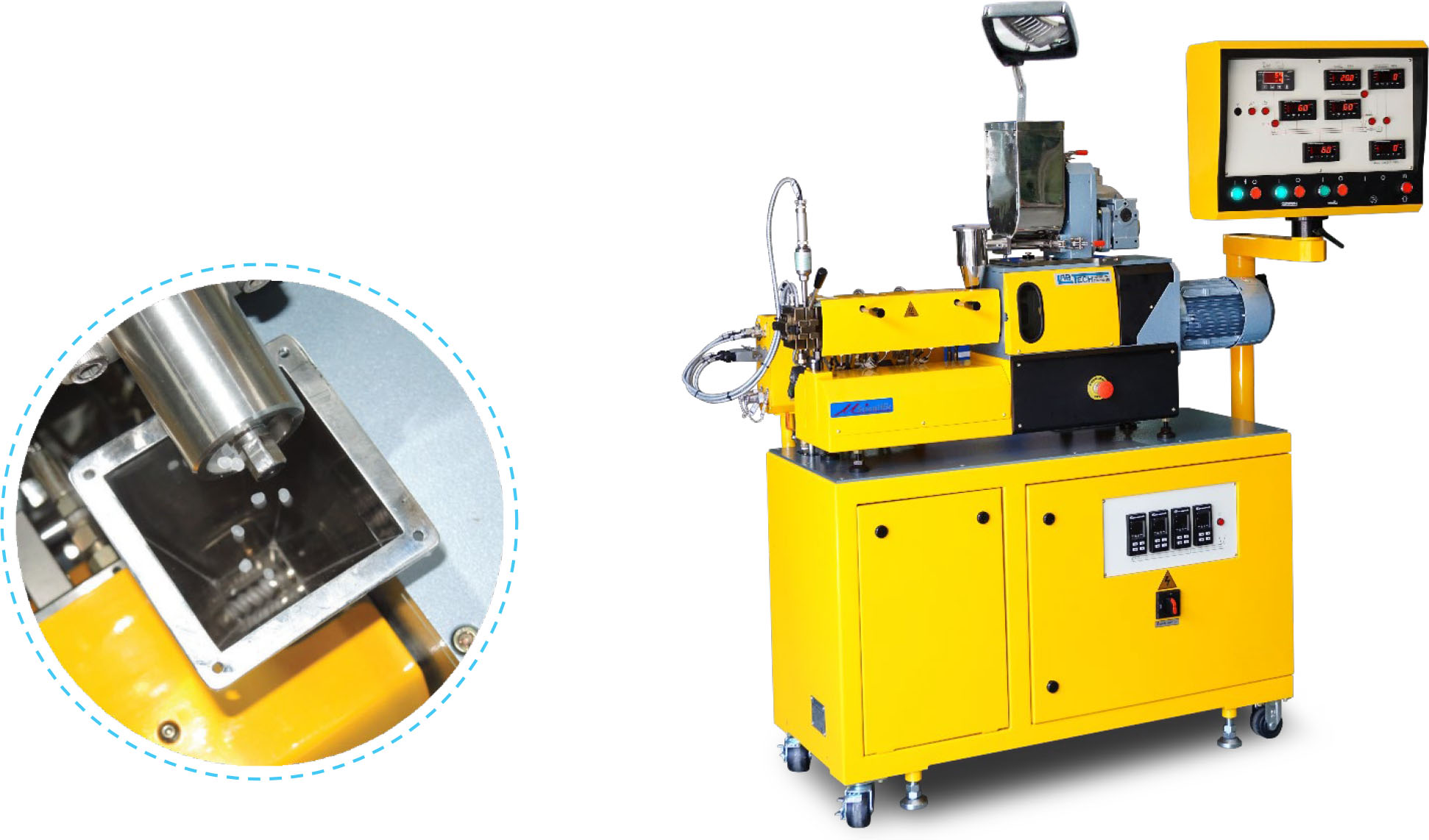 L-ERS/2 special Roll Stack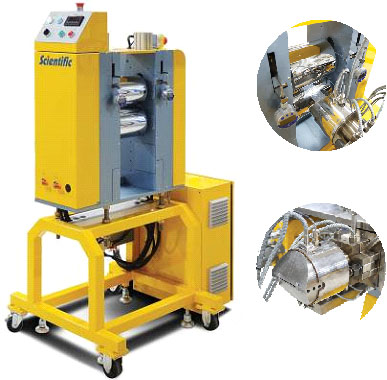 Our new L-ERS/2 special Roll Stack is designed for running with small-scale strip die.
The unit has two hard-chromed rolls for nipping and cooling polymer strips. The upper roll can be pneumatically raised or lowered. Precision thickness gauges on both sides of the rolls measure the gap which can be adjusted to control and even out the thickness of the strip film.
Each roll has spiral flow channels for highly efficient water cooling and uniform heat transfer distribution along the roll surface.
The strip die can be designed up to the customer's requirements.
LF-800-COEX Multilayer Film Blowing Line with Batch Blender and Multi-Station Hopper Loader
Our most recent LF-800-COEX film blowing line, built for DOW Chemical/ India, features an automatic resin blending system where up to four different resins can be blended with a very high accuracy. The resins are weighed individually and then led into a blender and further down into a container. All extruders have our loss in weight feeders and the upper hopper on each unit is equipped with a vacuum loader, which will suction the resin blends from the storage container. The amount of resins fed into each extruder is determined from the loss in weight feeder and the vacuum hopper loaders will automatically refill the LIW feeders. Included in the are modular downstream processing stations such as a customizable collapsing frame, haul-off nip rolls, film edge trimmers, corona treatment station, and two-station surface winder.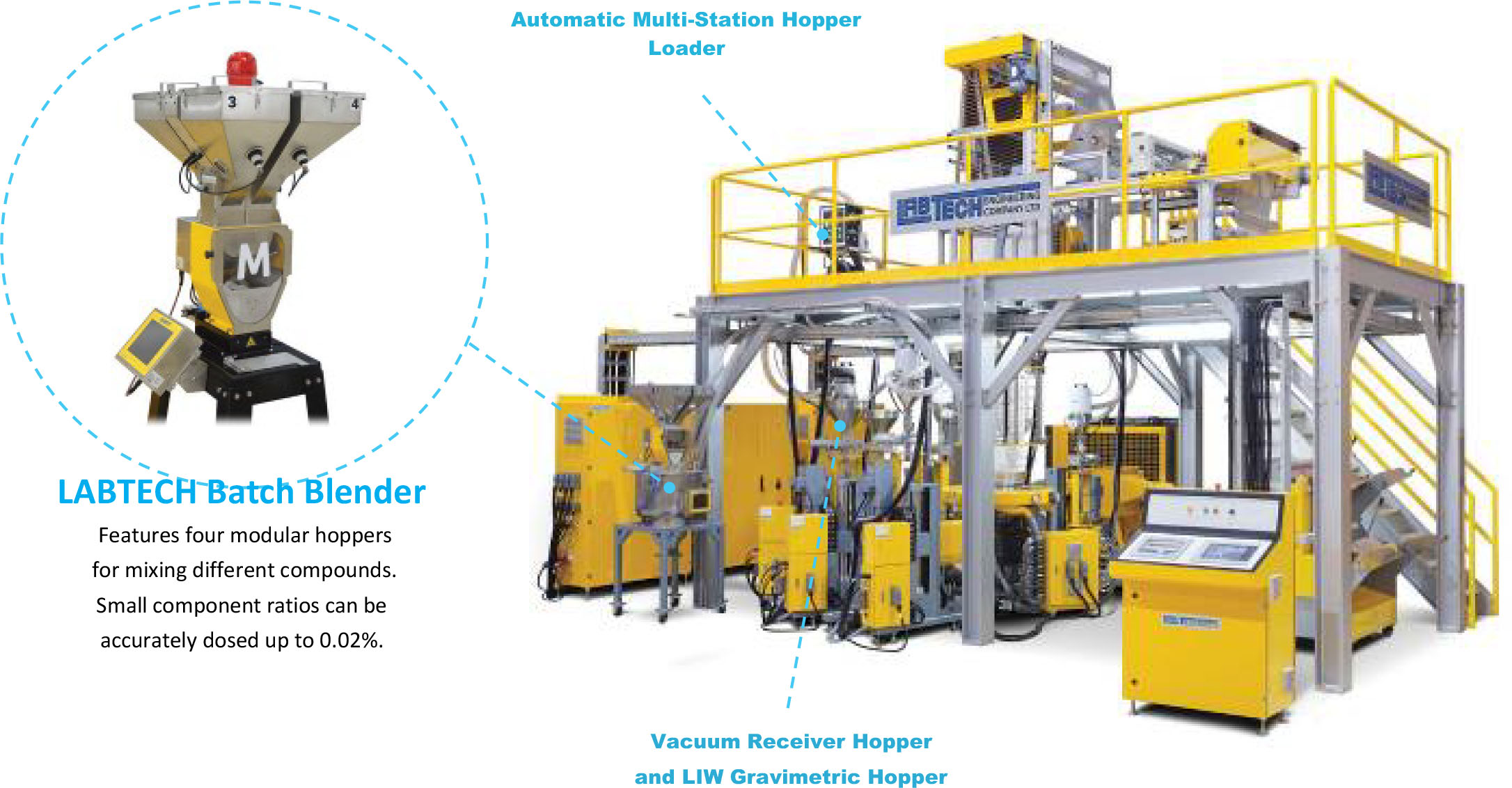 Our Service
It is our commitment to ensure customer satisfaction. We will gave you fast response service to helping you for transfer knowledge, to guarantee your productivities of your equipment or machine and also to give you an advance technologies. That why, we offered you these service to maintain your quality and quantity of your production.
TRAINING
We have competent trained personnel to share our knowledges to your man power. We also provides free consultation regarding to our products by phone or email to your employees.
ON SITE SERVICES
To ensure our equipment's function and quality, we will give you our best solution by phone or direct visit to your plant. We have engineering term locally and overseas to give you a full support.
DEMO & TRIAL PRODUCTS
If you interested with our products, we can give you a trial to ensure this equipment will be useful for your production. We will take a further discussion for preparation before trial. Please don't hesitate to contact us.